Senate Hearings on Proposed State Budget
As a member of the Senate Appropriations Committee, I am taking part in three weeks of public hearings on Governor Wolf's proposed 2018-2019 state budget. Summaries and video of each of the first week's hearings are listed below. I will follow up with the remaining hearings over the next two weeks. You can view hearings live here.
In this Edition:
Treasury
Independent Fiscal Office
Approved Private Schools/Charter School for the Deaf and Blind
PA Intermediate Units
Department of State
Auditor General
Attorney General
State Police / Homeland Security
PEMA / Fire Commissioner
Up Next
---
Tuesday, February 20, 2018
Treasury

Senator Wagner discussed with State Treasurer Joe Torsella how to best manage the state's special funds and whether or not these funds have adequate oversight and protections in place for taxpayers.
The Senate Appropriations Committee reviewed State Treasurer Joe Torsella's budget request. Topics covered included:
A status report on the ABLE Fund, which provides qualifying individuals with disabilities and their families a tax-exempt way to save for disability-related expenses, as well as efforts to reach more people.
An update on the state's current credit rating in comparison to other states and factors determining the rating.
Different methods of investment for the Pennsylvania 529 College Savings Program's Guaranteed Savings Plan (GSP) and Investment Plan (IP).
Why Pennsylvania's 529 College Savings Program is not as highly rated as other state programs.
The impact of current low interest rates on investment funds.
Concerns about whether the Commonwealth borrowing level is financially sound.
Disparities in revenue estimates on unclaimed property.
The implementation of a "lost contact" policy to help prevent the reporting of securities that are not abandoned and legislation that would continue that policy.
Special funds distributed in various accounts that could be brought into one master fund to generate greater revenue.
Whether the department has necessary funding to complete its IT modernization project.
Takeaways from hearings held by the Task Force on Private Sector Retirement Security and how those recommendations can be applied to Pennsylvania's public pension system.
Independent Fiscal Office
Independent Fiscal Office (IFO) Director Matthew Knittel briefed the Senate Appropriations Committee on the economic outlook for the coming fiscal year and general revenue trends. Committee members focused on several topics:
Senior citizens paying property taxes.
The Marcellus Shale Impact Fee and the Governor's proposed severance tax.
The Governor's proposed minimum wage increase.
Impact of the Governor's proposed combined reporting proposal and other business tax issues.
The move to performance-based budgeting and the additional duties of the IFO.
Impact of federal tax reform on Pennsylvania.
Lottery revenues and the impact of expanded gaming.
Projected economic activity and job growth in the state.
Differences in economic projections by the Administration and the IFO.
Approved Private Schools & Charter School for the Deaf and Blind
The committee heard testimony from Jeff Zibelman of Barber National Institute, David Schultheis of The Pathway School, Todd Reeves of the Overbrook School for the Blind, and
Steven Farmer of the Western Pennsylvania School for the Deaf. Topics included:
Tuition disparities among schools.
Students coming from certain geographic clusters.
Services to help children transition from school to independent living.
Capacity issues at each school.
Identifying children in need of early intervention.
The breakdown of fundraising dollars that go to administrative costs and to services.
The definition of "severe disabilities" and the individual services they require.
The impact of basing annual funding increases on the percentage increase in the special education subsidy.
Intermediate Units
During a hearing with representatives of Pennsylvania's Intermediate Units, members of the Senate Appropriations Committee explored potential cost savings through collaboration with school districts. Other topics of conversation included:
The role of IUs in meeting the state's requirements under the Every Student Succeeds Act (ESSA).
How IUs can help low-performing schools.
Negotiations regarding the cost of health care and prescription coverage for school employees.
Head Start and Pre-Kindergarten programs provided by IUs.
IU involvement in helping school districts that are in financial distress.
The effectiveness of early intervention services.
Professional development strategies for teachers.
The ability of IUs to continue providing services under the Governor's budget proposal.
---
Wednesday, February 21, 2018
Department of State
Senator Wagner pressed for information on the cost of updating county voting systems across Pennsylvania and the availability of federal funding. He also requested information on the cost of special elections.
Committee members questioned Robert Torres, Acting Director of the Department of State, about several issues relating to Pennsylvania's current voting system, including:
The cost to counties associated with making recommended upgrades to voting machines used in Pennsylvania.
The need for more information on that total cost, if there will be federal help available, and what safeguards are in place to ensure accountability with vendors.
The reason for the previous Secretary's departure, and when the Governor will nominate a replacement.
Concerns about hacking, scanning and other breaches of the voter registration system and how irregularities are investigated.
The delay in closing voter complaint investigations.
The impact of the state Supreme Court congressional map ruling on counties in terms of costs and delays and whether there is a back-up plan in place for the primary election.
The cost burden on counties of special elections.
Measures the department is taking to ensure the security of the Commonwealth's voting system and making voting more convenient.
Complaints about the professional licensure process and how it can be better coordinated with the Attorney General's Office.
The electronic filing of lobbying and campaign reports.
Auditor General
Senator Wagner noted that salaries and benefits continue to drive state government costs, and asked the Auditor General about excessive school district reserve funds.
Auditor General Eugene DePasquale was asked to justify spend requests for his office. Other topics included:
The possibility of extending performance audits to municipal authorities.
Digitizing documents in the Auditor General's Office.
Purpose of requested funding increase for the Board of Claims.
The need for performance audits of drug and alcohol treatment programs.
The statewide backlog of untested police rape kits.
Statewide radio system problems and cost overruns.
Oversight of child welfare programs.
Impact of non-mandated audits not being done due to lack of personnel.
The need for General Services audit in instances where state is paying for vacant real estate.
Public sector personnel costs versus lower private sector personnel costs.
Excessive school district reserve funding beyond 20 percent.
Frequency of school district audits.
The financial penalty for fire companies that consolidate.
Audits of multi-state basis commissions.
Attorney General
Senator Wagner discussed with the Attorney General the Equifax breach, mandatory pay increases in his department and Pennsylvania's opioid crisis.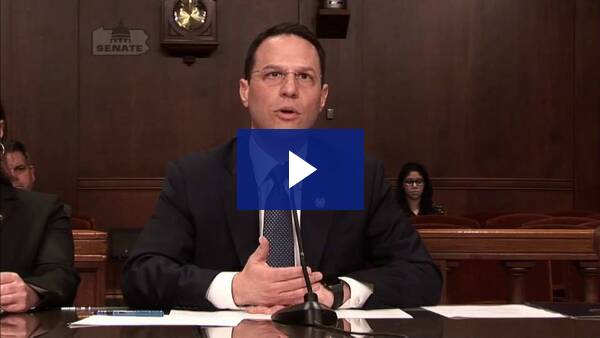 Attorney General Josh Shapiro recognized the ongoing, bipartisan effort to reform our state's criminal justice system
During a budget hearing with Attorney General Josh Shapiro, members of the Senate Appropriations Committee discussed ongoing efforts to combat Pennsylvania's heroin and opioid epidemic. Other topics of conversation included:
Efforts to combat human trafficking and support victims.
The effectiveness of mandatory minimum sentences.
Cost savings through Justice Reinvestment Initiatives and other criminal justice reforms.
Additional steps that can be taken to prevent abuse of incarcerated individuals.
An update on the Equifax data breach.
Discrepancies between the Attorney General's budget request and the Governor's budget proposal.
Reimbursements owed to District Attorneys, as well as jurisdictional issues.
Investigation of the difficulties in upgrading the statewide radio system.
Lawsuits filed or joined nationally.
Natural gas royalty payments for landowners.
Preventing elder abuse and financial exploitation.
Potential school safety improvements.
---
Thursday February 22, 2018
State Police / Homeland Security
The Senate Appropriations Committee explored a number of issues with State Police Commissioner Tyree Blocker. The following topics were discussed:
Police body cameras.
The proposed $25 per capita fee for municipalities that rely on State Police coverage.
Expanding police coverage of municipalities.
Medical cannabis and enforcement of DUI laws.
State Police staffing complement.
The status of the statewide emergency radio system.
The backlog of risk assessments of schools.
Commissioner Blocker's upcoming retirement.
The State Police Academy cheating scandal.
Criminal history background checks.
State Police overtime costs.
PEMA / Fire Commissioner
Pennsylvania Emergency Management Agency Director Rick Flinn and Acting State Fire Commissioner Bruce Trego fielded questions about emergency response as the Senate Appropriations Committee closed out the first week of budget hearings. The following topics were discussed:
Implementation of the statewide radio system.
911 revenue collections and system consolidations.
GIS mapping.
The rewrite of Title 35.
Financial penalties for fire companies that consolidate.
Sex offenders serving as volunteers.
Volunteer Loan Assistance Program for first responders.
Responding to the growing opioid epidemic.
Efforts to attract and retain volunteers.
The varied roles of volunteers.
Senate Resolution 6 Commission activities.
Online volunteer training.
Up Next
The Senate Appropriations Committee will continue its budget hearings on Monday, February 26. Please visit my website to learn more about next week's public hearings on the state budget.